INTRODUCTION
Adaptation is essential to managing the problem of climate change. In order to meet this growing challenge, this research aims to develop a new generation of building skins that can optimize their configuration by responding to environmental changes that could achieve new levels of sustainable performance especially in tropical climate.
An Adaptive Building Skin System controls light levels, solar gain, and thermal performance that could reduce energy usage, enhance comfort, and increase the flexibility of the built environment. The system is developed using Kinetic object method that could generate changeability in its Form, Pattern, and Orientation that was controlled by actuators. These actuators received inputs from surrounding environmental data. Furthermore Parametric, Mechatronic tools + Environmental Simulation, Modeling tools was used to create truly dynamic and responsive Building Skin.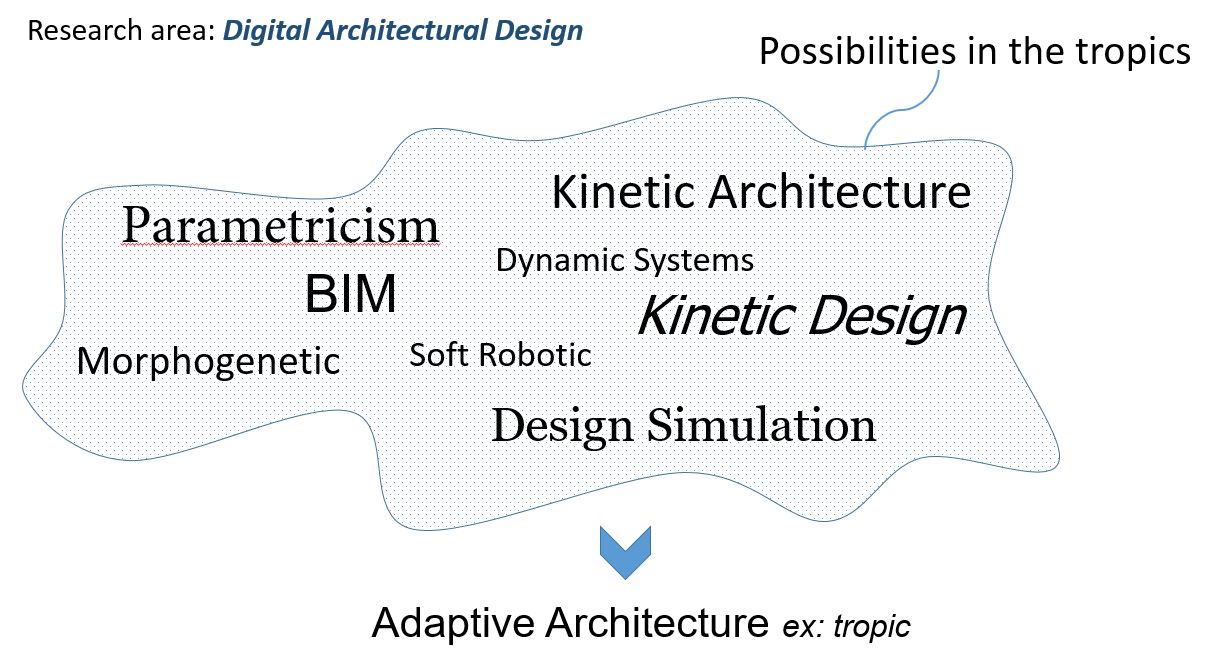 PUBLICATIONS
Sjarifudin, F.U. Adaptive Building envelope System using Parametric Camshaft Mechanism for Sustainable Building, Applied Mechanics and Material Journal, Vol:3/No:2/2012.
Sjarifudin, F.U. Parametric Camshaft Mechanism for Adaptive Building Envelope and Kinetic Building Ornaments, Key Engineering Materials, Vol:572/No:3/2013.
Sjarifudin, F.U, Laurensia, J.  Daylight Adaptive Shading Using Parametric Camshaft Mechanism for SOHO in Jakarta, EPJ Web of Conferences, Vol:68/No:37/2013.
Sjarifudin, F.U. Adaptive System Development for Secondary Skin, Applied Mechanics and Material Journal, Vol:534/No:4/2014.
CONFERENCES
International Conference on Mechanical, Simulation and Control 2012, 2-3 June, Hong Kong.
Future Traditions 2013, 4-5 April, Porto, Potugal.

Advance Design and Manufacturing 2013, 25-28 September, Valencia, Spain.
International Conference on Advances Science and Contemporary Engineering 2013, 23-24 October, Jakarta.
International Conference on Kinematics, Mechanics of Rigid Bodies, and Materials 2013, 2-3 November, Jakarta.
21st Annual Conference on Computer-Aided Architetcure Design Research in Asia 2016, 2 March – 2 April, Melbourne, Australia.
11 th Advanceed Building Skins Conference 2016, 10-11 October, Bern, Swiss.
GRANTS
Binus grant 2009, Jendela Hemat Energi pada Fasade Rumah Susun di Jakarta.

Binus grant 2010, Pengembangan Fasade Adaptif untuk meningkatkan Efisiensi energi pada bangunan.
Binus grant 2011, Penerapan Mekanisme parametrik Camshaft untuk Pengontrolan Kinetika pada Selubung Bangunan Adaptif.
DIKTI grant 2012, Pengembangan Sistim Selubung Adaptif untuk peningkatan efisiensi energi pada bangunan.
Nationwide University Network in Indonesia grant 2013, Pengembangan Selubung Bangunan Adaptif dengan Motif Ragam Hias Tradisional Empat Dimensi.
Toray Science Foundation grant 2015, Design and Development of Adaptive Secondary Skin using Shape- Memory Alloy.
AWARD
Reka Baru Desain Indonesia 2013, Adaptive Skin 4D. Kementrian Pariwisata dan Ekonomi Kreatif
RESEARCH SUBJECTS
Morphological and Parametric studies > …
Simulation and Modeling > …
Mechanism and System > …
Physical Computing and Prototyping > …
RESEARCH ROADMAP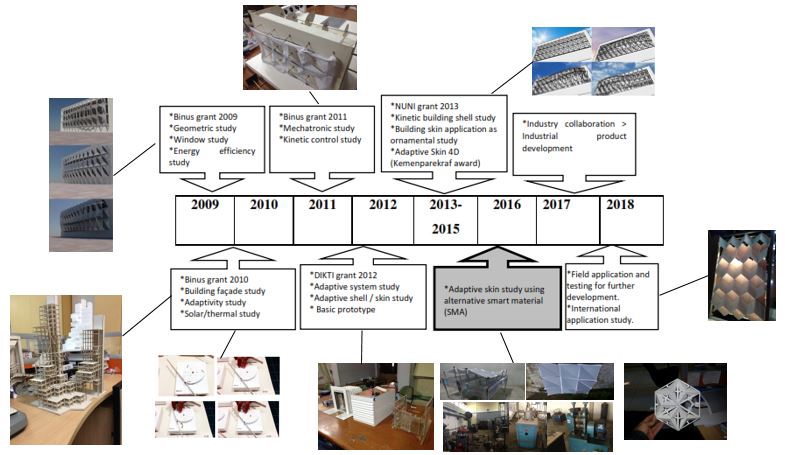 Credit: Dr.Eng. Firza Utama Sjarifudin, ST., M.Eng.