"Design is about form and art is more about ideas" says David Shrigley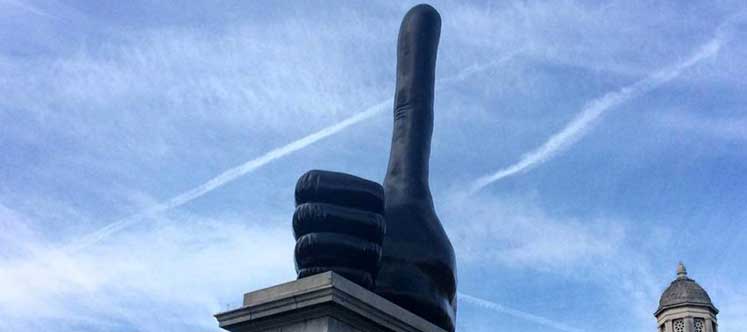 Photo: worldscientificuk
As his giant thumbs-up sculpture Really Good is unveiled in Trafalgar Square, David Shrigley explains how his work straddles art, graphics and cartoons (+ interview + slideshow).
From a Scottish football mascot to a spoken-word album, the Turner Prize-nominee has refused to stick to any one creative discipline.
His crude and distinctive hand drawings, which make funny and often dark comments on everyday life, have been turned into T-shirts, crockery, stationery and even political posters.
Functional items such as these are usually the preserve of designers but Shrigley brushed off the observation.
"I don't see myself as a designer necessarily," he told Dezeen. "I think art and design are two different things. Design is about form and art is more about ideas. Not all art, but as a rule."
(Read more via dezeen.com)