ARCHITECTURE GRAND FESTIVAL 2016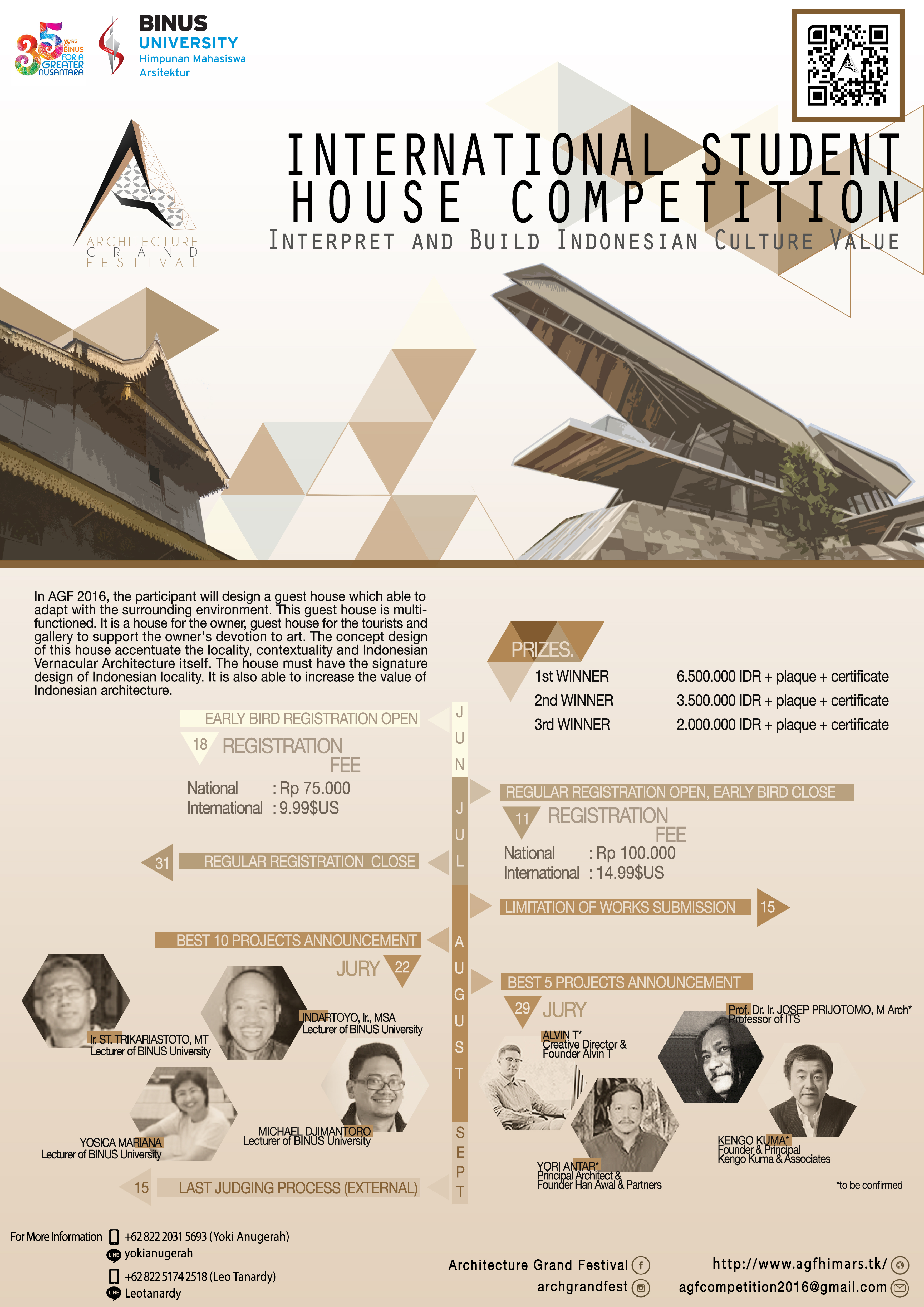 Modern architecture has been known for a quite long time. Quite long to make traditional design in urban area become scarce to find. Most of Indonesian think that Indonesian Vernacular Architectures are underappreciated by another country. Whereas, the uniqueness of Indonesian Vernacular Architectures (local material, and space function) makes the other country vigorously study about our local culture especially our Vernacular Architectures.
HIMARS BINUS University wants to introduce Indonesian Architecture to worldwide. With the aim to make Indonesian Vernacular Architecture become more well-known, appreciate and maintain Indonesian culture and also boost up the interest of Indonesian Vernacular Architecture design.
TERMS AND REGULATION
The participants are allowed to join this competition individually or in team. A team consists of maximum 4 people with an architecture student as a leader. The participants allowed to join are undergraduates students or a maximum of a year graduated. The group leader is from the architecture department. Each group will get 1 registration number only. 1 registration number is valid for 1 design only. The other member group may come from the other departments (psychology, interior design, civil engineering, etc).
PRIZES
1STWINNER    6.500.000 IDR + plaque + sertificate
2ND WINNER     3.500.000 IDR + plaque + sertificate
3RD WINNER      2.000.000 IDR + plaque + sertificate
HIMARS AWARDS 500.000 IDR + plaque
5 HONORABLE  MENTIONS
CONTACT INFO 
1. Name : Yoki Anugerah
Id Line : yokianugerah
Phone : +62 822 2031 5693
2. Name : Leo Tanardy
Id Line : Leotanardy
Phone: +62 822 5174 2518
WEBSITE: www.agfhimars.tk
EMAIL: agfcompetition2016@gmail.com
INSTAGRAM:  archgrandfest
DOWNLOAD TOR & FORMULIR 
TOR National : http://tiny.cc/agf2016TORNATIONAL
TOR International : http://tiny.cc/AGF2016TORINTERNATIONAL
Formulir National : http://tiny.cc/agf2016national
Formulir International : http://tiny.cc/agf2016international