PLAYFUL URBAN INTERVENTION JAT 2015 IAI JAKARTA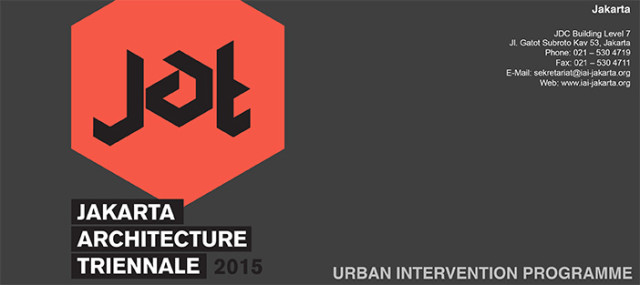 Jakarta is waiting to be filled with a touch of creativity and magic in it's every corner. Be part of it by join our Playful Urban Intervention Programme!
Batas Pemasukan karya untuk proses kurasi MASIH DIBUKA HINGGA : 24 Oktober 2015
Ketentuan Pemasukan karya untuk kurasi :
1. Konsep pemilihan lokasi. Lokasi harus berupa ruang publik yang ada di area DKI Jakarta. Lampirkan juga foto-foto lokasi.
2. Konsep desain.
3. Desain, gambar/ penjelasan detail khusus dlm bentuk visual (2D dan 3D)
4. Foto lokasi, Konsep dan gambar dilayout dalam bidang 1×2 meter, resolusi 300dpi dengan template yg telah ditentukan.
5. TOR dan template layout akan dikirimkan melalui email setelah peserta melakukan registrasi.
Email ke :
jat2015@iai-jakarta.org
Subjek Registrasi :
PLAYFUL URBAN INTERVENTION – REGISTRASI
Subjek Pemasukan Karya :
PLAYFUL URBAN INTERVENTION – MATERI KURASI
Info lebih lanjut :
Sekretariat Jakarta Architecture Triennale (JAT) 2015
JDC Building Level 7
Jl. Gatot Subroto Kav 53, Jakarta
Phone : 021 – 530 4719
Fax : 021 – 530 4711
Via IAI Jakarta