Gedung Surya Research and Education Center (SREC)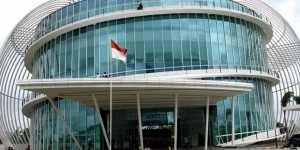 Gedung berbentuk bulat dengan luas 5.800 meter persegi itu memang tampak memukau. Dibangun dengan konsep fisika yang diterjemahkan oleh arsitek Hendrajaya Isnaeni, tampilan gedung tersebut benar-benar dapat dinikmati baik dari dalam maupun luar bangunan.
Tentu, tak salah jika gedung ini "berbau" fisika. Karena gedung Surya Research and Education Center (SREC) didirikan di atas lahan di Gading Serpong, Tangerang, Banten, sebagai wujud kecintaan Prof Yohanes Surya terhadap pendidikan bagi anak-anak dari daerah tertinggal, salah satunya Papua.
"Karena beliau fisikawan, konsepnya ada lingkaran dengan tujuh spektrum warna, berbentuk bulat dengan golden number angka-angka fisika. Kami menerjemahkan adanya pergerakan elektron dari medan magnet," kata Hendrajaya di acara Jalan-jalan Karya Arsitek yang ditampilkan dalam Indonesia Architect Week at Tokyo 2011 (IAWT) oleh Ikatan Arsitek Indonesia (IAI) Jakarta, Sabtu (18/12/2011).
Hendrajaya mengatakan, meski terdengar rumit, namun sebagai sebuah bangunan untuk pendidikan dan penelitian SREC harus dapat dinikmati dari dalam maupun luar bangunan.
"Kami buat ramp dari bangunan di dalam, bawah menuju ke atas, kemudian bisa terhubung sampai bangunan di luar. Fungsinya untuk mengurangi anak tangga dan komunikasi tetap berjalan sampai ke ruangan," ujarnya.
Kebanyakan ruang dalam bangunan ini adalah kelas dan laboratorium. Pada bagian atasnya terdapat kubah yang dilapisi kaca, sehingga menyerap panas matahari saat sing hari.
Anak-anak Papua
Hendrajaya mengungkapkan, bangunan yang terletak di depan kampus Universitas Multimedia Nusantara (UMN) ini merupakan cita-cita Profesor Yohanes Surya sebagai pusat pelatihan dan pendidikan anak-anak Papua. Bagi Yohanes Surya, lanjut Hendrajaya, tidak ada anak-anak yang bodoh.
"Beliau ingin membuktikan, bahwa anak-anak asal Papua juga pintar. Anak-anak dari Sekolah Dasar (SD) dilatih, dites, dan diajari metode khusus. Langkahnya ini mendapat dukungan dari Pemerintah Daerah Papua," katanya.
Sementara itu, menurut arsitek Deddy Wahjudi, penggagas IAWT 2011, bangunan Surya Research and Education Center karya Hendrajaya Isnaeni ini masuk dalam kategori bangunan publik. Bangunan ini dipilih mewakili kategori tersebut, yang memang jarang dikirimkan oleh para arsitek.
"Dipilih karena mewakili pusat pelatihan dan pendidikan. Dari beberapa yang masuk, bangunan ini dianggap menarik karena diapresiasi secara modern mewakili zamannya," kata Deddy.
Sumber: diambil langsung dari KOMPAS.com